Durostone® solder pallets
A good example to show the precision of our machining are Durostone® PCB solder pallets. They are used to fix electronic components on printed circuit boads using the wave soldering process. The design of the solder pallets is exactly adjusted to the design of the printed circute board.
Durostone® PCB Solder Pallet Materials
Durostone® materials have been developed for all procedures within the PCB assembly process. There are three main grades which are suitable for use in the SMT reflow and wave soldering processes, Durostone® CHP760, CAS761 & CAG762.
These materials offer the following features:
Excellent mechanical properties at elevated temperatures including the lead-free process.
Low thermal conductivity.
Excellent machining properties enabling the manufacture of complex design solder pallets.
Good resistance to chemicals used in modern fluxes.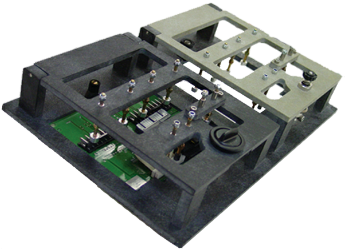 Durostone® Harsh environments
A combination of flux, temperature and process cycles can result in the degradation of the standard Durostone® grades of material. The solution is Durostone® CFR767 which has been specifically formulated for use with aggressive fluxes and high process temperatures.

The resin used to produce Durostone® CFR767 can withstand temperatures up to 300°C. The decision to use Durostone® CFR767 over one of the standard grades is made when the solder bath temperature exceeds 265°C and the bottom side PCB pre-heat exceeds 140°C.

Durostone® CFR767 has excellent flux resistance. When fluxes containing halides or dicarboxylic acids are used in high volume production the lifespan of the standard grades of material can be reduced so Durostone® CFR767 is an ideal solution.
Please look to the Material Sector beside the Text. He will helps you to find the right Durostone® Material for you Process.
Exclusive Access
There is exclusive access for customers to a range of technical support materials that will help improve solder pallet design, lifespan and, ultimately, the quality of the PCB. To gain access to the technical resource, please use the Login page. If you do not have a username and password there is a form on the Login page to request one.
Further technical data and brochures can also be found in the Brochures folder above. When you haven any other questions you can contact us.